FJT  celebrated Bloomsday '21 actually and virtually, really and fantastically, online and offline.
15th June          1200    Deansgrange Cemetery          Myler Kehoe Gravestone unveiling
16th June          0800    The Tower, Sandycove.          Telemachus
16th June          1030    Zoomsday '21 with Andrew Basquille..
16th June          1800    LexIcon Dun Laoghaire          Opening of Joyce's Dublin Houses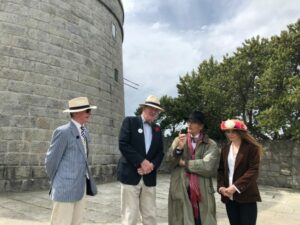 Andrew and John from FJT welcome James Joyce's grand-nephew, Jurek Delimata and his daughter Eva to the Tower on Bloomsday 2021. Jurek attended the official opening on June 16,  1962 and looks forward to returning for the 60th anniversary celebrations next year.
Myler Keogh Memorial: At midday on the 15th June, Seamus Cannon welcomed a respectable(?) crowd to Deansgrange Cemetery and outlined the genesis of the project. A man in a macintosh sang, with apologies to Art (& Paul) "A Boxer" . A wreath was laid at the recently erected Myler Keogh gravestone by Minister Ossian Smyth TD. A graveside oration by Frank Cogan, outlined a number of new details of Myles Keogh's life. His father's nickname "Clocker Keogh" is indicative of the fact that it was not a bed of roses. The global premiere of Andrew Basquille's epic ,commemorating the battle between Dublin's pet lamb and sergeantmajor Bennett the Portobello Bruiser, in which Myler dusted the floor with him, was received favourably by the mourners. The great Vivien Igoe, who had drawn attention to the Donnybrook man in The Real People of Joyce's Ulysses laid a single flower on the grave.
June 15th 6pm Update,
Hi all, a great tribute to Myler in Deansgrange this morning! Great songs from Eoin and Andrew and great eulogy from Frank Cogan. There was a lovely cheery but respectful atmosphere. Look out for a mention in Irishman's Diary tomorrow.
It is unlikely that the Tower will be open on the 16th, in the event it is, access will be strictly controlled. Undoubtedly a number of stalwarts will gather for the 8 a.m. reading. Morning tide on Bloomsday at the Forty Foot is 4.05 so if anybody needs anything tightened in the snotgreen, they should come early. At 10.30 a.m FJT will host a zoom online event with songs, readings, rhymes and recimitations.
This is a funferal event and it is hoped to conclude it with our illustrious chairman, Seamus Cannon ascend to the glory of the brightness at an angle of fortyfive degrees over Fitzgeralds in Sandycove like a shot off a shovel. On the evening of the 16th at the LexIcon the FJT and DLR will open an exhibition of paintings " Joyce's Dublin Houses" by FJT committee member Charlie Hulgraine.
This is a strictly limited invitation only event at which the FJT will be represented. However the exhibition will remain open until the end of July and it is highly recommended.
A number of filmed pieces commissioned by FJT from Noel O'Grady, Caitríona Ní Threasaigh, Robert Grogan, Bryan Murray, the Druidy Druids as well as Andrew's Myler Keogh epic will be available on the FJT website for virtual celebration.
STOP PRESS, Bloomsday 15.00. Not the Ormond Hotel but the beautiful Vale of Avoca and the Meeting of the Waters from Noel O'Grady.
Another beautiful reflective piece for FJT from Noel.