Welcome to the official website of the James Joyce Tower & Museum at Sandycove, County Dublin, Ireland.
Whether you are a Joycean scholar, a history buff, a curious tourist, or an interested local, it is our hope this website will encourage you to visit us at this famous tower in person.
Located at the seaside at Sandycove, a village on the south coast of Dublin, the James Joyce Tower & Museum is a place of immense interest for tourists and locals alike.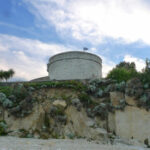 The tower itself is a great example of a network of Martello towers built by the British along the coast of Dublin in the early 19th century to defend against the threat of a Napoleonic invasion.
It is also the setting in which the opening of James Joyce's masterpiece Ulysses is set, and proudly houses the James Joyce Museum, which boasts a unique and wonderful collection of Joycean memorabilia.
It evokes many stories from its literary past (Joyce, St John Gogarty etc), from its construction (as a part of a military defence system) and from its association with the architect, Michael Scott.
It is also a terrific vantage point from which to enjoy panoramic views of the south coast of Dublin and "the awakening mountains" Joyce refers to in Telemachus, the opening episode of Ulysses that is set in the Tower.
The James Joyce Tower & Museum is currently operated by local volunteers and is open Thursday to Sunday from 10.00 am to 4.00 pm.
We cater for individual visitors, for tour groups and for school trips.
So, please enjoy this website but, remember, nothing beats a personal visit to the tower itself because it is staffed by knowledgeable and passionate volunteers. Admission is free  – though we welcome donations!  Personal and Group visits can be booked on our website for a small donation. The Tower is a small space and very occasionally we have to restrict entry due to visitor numbers.
Here's an RTE Morning Ireland radio broadcast with some information about what you might expect from a visit to the James Joyce Tower & Museum: