Welcome to the official website of the James Joyce Tower & Museum at Sandycove, County Dublin, Ireland.
Located in Sandycove, a village on the south coast of Dublin, the James Joyce Tower & Museum is a place of immense interest. This website is to encourage virtual visitors to "encounter the reality of experience" by visiting FJT in Sandycove.
The tower itself is a great example of the network of Martello towers built by the British in the early 19th century to defend against the threat of a Napoleonic invasion.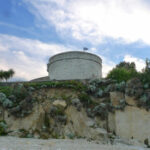 That it is also the setting of the opening chapter of James Joyce's masterpiece Ulysses, makes it a must see on any visit to Dublin. The unique collection of Joycean memorabilia on display in the James Joyce Museum, evoke many stories from its literary past.
It is a terrific vantage point from which to enjoy panoramic views of the south coast of Dublin and "the awakening mountains" Joyce refers to in Telemachus, the opening episode of Ulysses that is set in the Tower.
The Friends of Joyce Tower Society (FJT) was formed to avert the closure of the tower and museum due to governmental budgetary constraints. FJT members consider this place a site of great historic and literary importance. As the setting for the opening of Joyce's masterpiece, 'Ulysses' it is recognised worldwide by people of culture. Since 2012 we have kept the tower open to the many admirers of Joyce's work who make the pilgrimage to Dublin to visit it. The Tower is open daily from 10.00 am to 4.00 pm during the winter and from 10.00 am to 6.00 pm for the summer months.
The FJT are a group of citizen volunteers dedicated and committed to staffing the Joyce Tower and keeping it open to the public 365 days per year. Our shared interest in James Joyce, his life, his family and characters make this a welcoming and rewarding place to visit. The FJT regularly organises funferal events to keep the memory of Joyce and his wonderful characters alive.
The FJT is run by a committee. The current (elected April 2021) Officers and committee are
Chairman: Seamus Cannon,
Vice Chairman: Andrew Basquille, Treasurer: Julie Larkin, Secretary: Eoin Ó Cuirc,
Members: Pat Crowley, Denis Gill, Kay Gleeson, Charlie Hulgraine, Kevin O'Doherty, Grainne O'Malley, Olive Rolestone, Maggie Fitzgerald
So, please enjoy this website but, remember, nothing beats a personal visit to the tower itself and, because it is staffed by knowledgeable and passionate volunteers, admission is free – although we do welcome donations!
Here's an RTE Morning Ireland radio broadcast with some information about what you might expect from a visit to the James Joyce Tower & Museum: