Welcome
Located at Sandycove point on the south coast of Dublin, the Joyce Tower Museum is a place of immense interest for tourists and locals alike.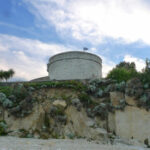 The tower itself is one of a network of Martello towers built by the British along the coast of Dublin in the early 19th century to defend against the threat of a Napoleonic invasion. It is also the setting of the opening of James Joyce's masterpiece Ulysses, and houses the Joyce Tower Museum a unique collection of Joyce related items.
The Joyce Tower Museum is open Tuesday to Sunday from 10.00 am to 4.00 pm. Admission is free – though we welcome donations. We cater for individual visitors, for tour groups and for school trips. The Tower is a small space and very occasionally we have to restrict entry due to visitor numbers.
Joyce Tower Museum is a registered charity. RCN 20206583
Mission and Values
Mission
The mission of Joyce Tower Museum is to manage, operate and promote the Joyce Tower as a key cultural attraction and to contribute to Joyce's literary legacy, under license from Dún Laoghaire Rathdown County Council.
Vision
Inspired by the setting of the opening episode of Ulysses, our vision is to be a world-class site of literary pilgrimage championing the work of James Joyce, caring for our unique collection, and providing a high-quality visitor experience with the support of local volunteers.
Values
The following are the core values central to how the Joyce Tower Museum achieves its mission:
Lifelong Learning – Curating a collection that enriches the study of Joyce's work
Social Inclusiveness – Building community through our strong volunteer network
Light touch – Respecting the architectural significance of the building and minimising our
environmental impact
Prioritising Safety – Providing a safe and secure environment for visitors, staff and volunteers
Collaboration – Working closely with our key stakeholders
Transparency – Being open and accountable through good governance
Here's an RTE Morning Ireland radio broadcast with some information about what you might expect from a visit to the Joyce Tower Museum: