Well, Bloomsday Festival 2019 at the James Joyce Tower & Museum has drawn to a close – and what a week it was!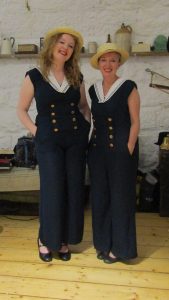 It all began on Tuesday last with a very enjoyable performance by the Darina Gallagher and Sinead Murphy. The 'Seaside Girls' entertained a full house (or, should that be, tower?) with an afternoon of Joycean songs.
Robert Grogan followed, on Wednesday, by taking us through his highly entertaining 'Strolling Through Ulysses'. He unlocked Joyce's masterpiece and brought the characters to life with a most delightful, funny and entertaining performance.
Aidan Coleman treated us (twice!) to a performance of his new arrangement entitled 'SONGS of Joyce, Beckett, Yeats & Wilde on Thursday.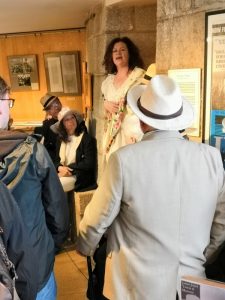 Our great friend and wonderful actor, Caitríona  Ní Threasaigh, helped us transform the tower's  round room into the bedroom at no. 7 Eccles  Street on Friday as she performed her wonderful  interpretation of Molly Bloom's famous soliloquy  from the final episode of 'Ulysses'.
On Saturday, Noel O'G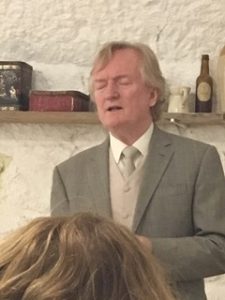 rady, (the award winning tenor) provided us with another day of song. He was, quite simply, exquisite. People haven't stopped talking about his beautiful voice and how it filled the tower with magic.
Finally, on Sunday (Bloomsday Itself!) we opened early (8.00 am) to allow visitors to start the day as Stephen did – at the Sandycove Martello Tower.
The day opened with the Cathaoirleach of Dun Laoghaire Rathdown County Council raising the tower's flag in a salute to the day and in praise of the work of the Friends of Joyce Tower Society (FJT) volunteers who keep the tower staffed and open 365 days a year.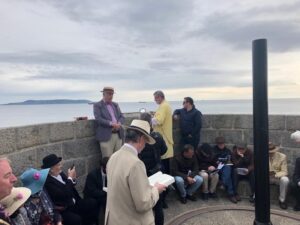 FJT Chairman (Séamus Cannon), Andrew Basquille and the unbelievably gifted James Holahan (is there no beginning to this man's talent?) then brought us back to the morning of June 16th, 1904 with the opening words of our favourite book as Buck Mulligan stepped out from the tower's stairway for a shave.
A terrific line-up of events followed to complete the tower's Bloomsday offering. This included readings from 'Ulysses' atop the tower by the wonderfully talented Bryan Murray whose readings from the book mesmerised and enchanted his adoring fans. The rain, at one stage, dampened his hair but certainly not his spirit!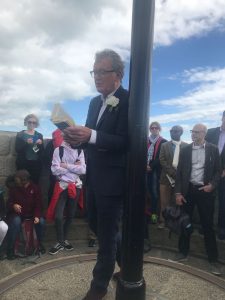 The 'Druidy Druids' provided musical entertainment and Caitríona Ní Threasaigh came back to perform short snippets as Molly Bloom at intervals throughout the day.
What a week! What a day! Once again, our tower became (as it was during Gogarty's residence) – a party house!
Our thanks and gratitude go to all the performers who made our week so special.
Our thanks go also to the FJT volunteers who dressed in 'Joycean' attire throughout the week and delighted us all with their tours and stories of the tower and James Joyce's time in this magical place.
If you couldn't join us, remember – we're going to do it all again next year. But why not pop in for a visit before then? Entry to the tower is free so there's no excuse not to visit the place where it all began; the James Joyce Tower & Museum.
We hope you enjoyed Bloomsday Festival 2019 as much as we did!