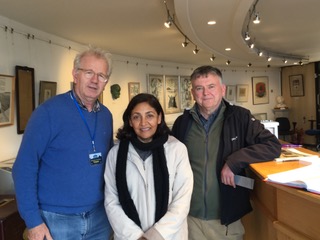 It was our great pleasure to welcome  
Deepti Naval
to the Tower on Saturday last.
Deepti Naval is a major star in the Bollywood film industry and has also published books of poetry and short stories. She also paints and holds exhibitions of paintings and photos. She was born on 3rd February 1957, just missing Joyce's own birthday!
The star was in Ireland for a few days and her friend thought she should visit the Joyce Tower. She had read 'Ulysses' and was familiar with its significance. Volunteers Seamus Cannon and Michael Quinn were on duty to fill in any gaps in her knowledge! They also took the opportunity to query what Buck Mulligan was on about in inquiring about the Mabinogion and the Upanishads over breakfast!