This Bloomsday was like no other that we've ever experienced at the James Joyce Tower & Museum.
We are accustomed to hosting an exciting week of celebration culminating in the busiest day in our tower's calendar, Bloomsday itself, and we have always been delighted to welcome people at this time to this very special place where Joyce's masterpiece, 'Ulysses', begins.
Sadly, this year, our tower remained covidly closed for Bloomsday but we were delighted that, with the help of some good friends, we were able to bring you a flavour of the activities we had originally planned for Bloomsday 2020 to mark this important literary occasion at our iconic tower.
What we did was to create a Virtual Bloomsday and here's how it looked, enjoy:

James Joyce Tower & Museum –
Virtual Bloomsday, 2020!
Firstly, here's a Bloomsday Zoom session which took place on the day itself…
We had an open invitation to those who wished to join us on Bloomsday (16th June) for a LIVE Virtual Bloomsday Zoom session organised by the Friends of Joyce Tower Society volunteers. If you missed it, no worries. Here's a recording of the readings from 'Ulysses', the songs and the struggles with virtual technology!. The session was long. It lasted over 2 hours – but it was great fun!
Now, read on for some exclusive and very special highlights of our Virtual Bloomsday at the tower…
***********
For many years, Bryan Murray has delighted Bloomsday visitors to the tower with his readings from 'Ulysses'. He has entranced us by bringing Joyce's words to life and imbuing them with his wonderfully rich voice. Atop the iconic tower, he would perform to a rapt audience. To get us in a Bloomsday mood and to transport us (at least in our imaginations) to the top of the Martello Tower at Sandycove on this special day, Bryan made this Virtual Bloomsday recording of himself reading from the opening of Ulysses…
We hope that you enjoyed Bryan's reading.
************
Traditionally, the wonderful volunteers of The Friends of Joyce Tower Society celebrate Bloomsday by dressing up in costumes reminiscent of early 20th Century garb throughout the festival.
Some take things even further and entertain visitors to the tower with their wit, repartee and, perhaps, an occasional song or recitation. Here's one such volunteer, Andrew Basquille, with a song he composed that gives us an account of the very first Bloomsday in Dublin in 1954:
Thanks for that Andrew.
************
Every Bloomsday, one of the great treats we look forward to at the tower is when Caitríona Ní Threasaigh graces us with her presence as she performs her adaptation of the final episode of 'Ulysses' (Penelope) known as 'the Molly Bloom soliloquy'. Caitríona, with a simple rearrangement of the Round Room's furniture transforms it into the bedroom at Eccles Street and delivers a powerful and engaging performance.
Well, she couldn't be at the tower this year but here's Caitríona with a recording she made especially for us for this Virtual Bloomsday at the tower:
Isn't she only Fabulous?! – Thanks Caitríona.
************
James Joyce was a wonderful tenor singer and he, no doubt, entertained Gogarty and Trench at the tower with a song or two back in September, 1904 when they lived together in, what was then, party central! It has been our pleasure, over the years during the Bloomsday Festival, to fill the tower's Round Room with music of that era beautifully performed by Noel O'Grady the renowned Irish tenor.
Noel put this clip together for us to enjoy as a brilliant addition to our Virtual Bloomsday celebration:
Nach raibh sé sin go hálainn? Go raibh míle maith agat, Noel.
************
Yes, music is always important to us at the tower – especially around Bloomsday. One Bloomsday, several years ago, the 'Druidy Druids' appeared and began to play for the assembled visitors and volunteers. They were very popular and, to our delight, they kept coming back! They, very kindly, sent us this video which was filmed at Niall O'Donoghue's Martello Tower (No. 7, Killiney) especially for our Virtual Bloomsday this year:
(The Druidy Druids featured: Wendy Goodbody (Vocals), Thomas Dunne (Guitar & Mandola), Dave McClelland (Banjo & Mandolin), Frances McClelland (Concertina) Carlos Gomes (Double Bass) & Brian McManus, (Reader). Camera: Owen Goodbody)
Thanks guys – that was terrific!
************
A special Bruce Arnold film treat for our Virtual Bloomsday:
The Friends of Joyce Tower Society (FJT), in collaboration DLR Lexicon, was delighted to offer you a unique opportunity to see three rarely screened films on the life and work of James Joyce as part of our Virtual Bloomsday celebrations.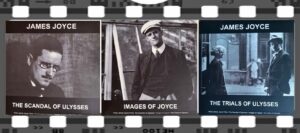 These films, produced by Bruce Arnold in the 1990s, explore stories and controversies which surrounded Joyce and his most famous work, 'Ulysses'. The films had not been screened in public for many years.
The FJT and the Lexicon are deeply grateful to Bruce Arnold for donating his films to the James Joyce Tower & Museum and for his cooperation in showing them for Bloomsday 2020.
Note: Unfortunately, this was a limited run of these works and our link to the screening is no longer available. Watch out for another chance to view these wonderful films at a later date.
************
And, finally, something completely novel – a sign, perhaps, of things to come…
Hopefully, we will see you next year for Bloomsday at the tower but, if we are obliged to present another Virtual Bloomsday, it may just look a bit like this:
The trailer above describes a new mixed reality collaboration between V-SENSE and the School of English at Trinity College Dublin. Thank you guys at for rushing this experimental snippet (featuring a 'matrix' version of a tower regular: actor, Paul O'Hanrahan) from your 'Ulysses' project for inclusion in our Virtual Bloomsday.
For more information on V- SENSE click here: https://v-sense.scss.tcd.ie/research/mixed-reality-ulysses/
************
Well folks, that was our Virtual Bloomsday 2020. We hope that you enjoyed it.
Thanks to all the performers and contributors who made it possible.
We miss the tower and we miss our visitors. Hopefully, we will be back together soon.
In the meanwhile, we send you a virtual hug together with a firm wish that you, your families and your friends stay healthy and stay safe.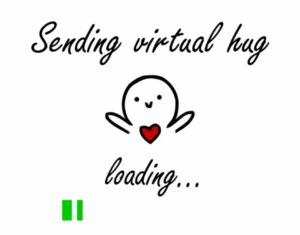 HAPPY BLOOMSDAY!
Friends of Joyce Tower