Fitzgerald's Theatre Sandycove
Rating: ♥♥♥♥♥♥(6 out of 5)
'A Glorious production', The Irish Times
'Had to be there', Prison Day Release News
'It takes the biscuit!' Jacob's In-house Magazine
'It was a perfect call!' Donald J Trump
On Wednesday last, the FJT Reading Group took to the stage in the largely unknown Fitzgerald's Theatre, Sandycove. A one-off performance of an adaptation of an interpretation of a version of the Cyclops episode of James Joyce's Ulysses.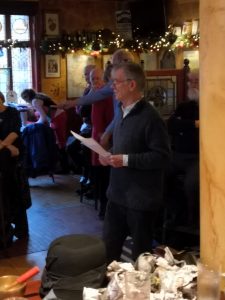 The brainchild of producer Philip Pearson, this unique stage experience was brought to life under the expert direction of the talented, Maeve Edwards. Those of us fortunate enough to witness the, sadly, limited run of this artistic masterpiece will never forget the ray of sunshine that this duo brought to our otherwise pedestrian and dreary lives.
First credit must surely go to the set designers. The packed audience was transported into what could only be described as an almost perfect reproduction of an authentic Dublin Pub. It was as if we were there in Barney Kiernan's itself! One could almost taste the stale beer and sense the presence of lost souls.
The performance began with a long (and often interesting) background scene-setting delivered by Robert Walsh. His teasing of what we might expect had the audience at the edge of their bar stools shivering with ………. anticipation.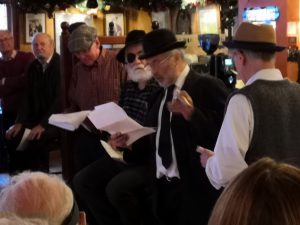 The show opened with Blazes Boylan (Andrew Basquille) making an entrance and exit in a flash but, to the audience's delight, capturing the very essence of the dandy himself.
At the bar were The Citizen (Peter Lynch, who had clearly been keeping an eye out for this part) Alf Bergin (Mike Roddy, who also excelled as Garyowen the dog) and Joe Hynes (Robert Walsh, appearing again!).
Brian Rankin played a convincing Bob Doran and Conor O'Toole was utterly believable as Martin Cunningham.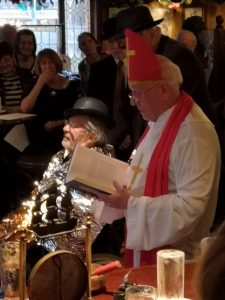 Few would argue that Kevin O'Doherty eclipsed even Milo O'Shea's excellent depiction of Leopold Bloom and Pat Crowley showed that he is, indeed, a man of hidden talents. His portrayal of Lenehen was outstandingly brilliant.
If there was to be any criticism it was that Tom Fitzgerald's interpretation of the role of Terry the barman seemed a little practiced – almost as if Tom was too familiar with that particular role. But this is just nit-picking.
As if to reflect our National Theatre policies, there was only one small female part in a large male dominated cast. Maggie Fitzgerald, however, rose admirably to this task of tokenism and delivered a wonderful soliloquy. Who can forget those haunting words delivered with such pathos by Maggie, 'Hey Mister, your fly's open!'? Yes, with these words, it would seem that we all felt the draught.
Without question, the cast delivered their lines (how did they remember them all?) and played their parts with passion and conviction. What a shower of thespians! Method acting at its finest.
Through discussions of Dignam's funeral, the Ascot Gold Cup and the definition of Nationhood, these wonderfully talented actors immersed us, the privileged onlookers, in a mist of existential awareness that gave us licence to question our views and to challenge the prejudices that bind us. Through their stagecraft, they bestowed, upon us, a greater understanding of love, hatred, betrayal, nationalism, religion and so much, much more.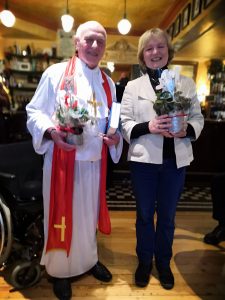 It was as though our very souls were elevated like Bloom himself and taken on their own odyssey – a voyage of self-discovery. We were washed in a sea of self-awareness. We were cleansed in the spirit of the immediate, we lived in the present, the here, the now.
Does theatre get any better? I doubt it! Can actors perform more convincingly? I suspect not! Can reviews be more OTT? I can't imagine that they could!
On a more sincere note, yesterday's play epitomised the great spirit and fun that makes being a part of the FJT community so special. Thank you Philip and Maeve and, indeed, all the cast for the joy you brought to Fitzies on Wednesday.
All that remains is for me to wish all those associated with the FJT, our families and friends a very…