'Unmute yourself, unMUTE yourself!'
'It's down on the left hand side of your screen, you can't miss it.'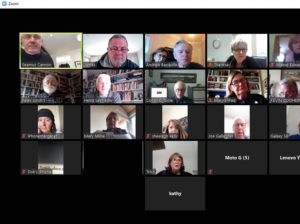 'It's a little thingy that looks like a pepper cannister'
'Move your curser down and click on it'
'OK, ok we can hear you now'
'No, you've clicked it again'
'I can't hear you. No, still can't hear you'
'You'll have to click it again'
'OK, yes, now we can hear you again – DON'T TOUCH ANYTHING!'
After repeating this exercise many times (there were 25 of us), a celebration of Myles na gCopaleen, Flann O'Brien and Brian O'Nolan the three persons in the one Irish literary deity could, at last, begin.
Given our current state of emergency, it was, of course, an online gathering facilitated and organised by Andrew Basquille (FJT committee member) in an attempt to muster the Wednesday reading group members and celebrate the writings of Myles, Flan and Brian (BF&M).
The (tech-savvy?) participants assembled virtually last Wednesday (April 1st) which, joking aside, is an auspicious date. It marks the anniversary of the passing of BF&M in 1966 and would normally be celebrated as Myles Day with the Palace Bar as its omphalos.
This year, we hunkered in front of our laptops, PCs and mobile phones and, as if by magic, the atoms, molecules and photons vibrated appropriately and our session began.
The first thing we noted was that the date marked, not only BF&M's passing but also the birthdays of two members present – Andrew Basquille and Joe Gallagher. This revelation prompted a chorus of 'Happy Birthday' which caused several members to immediately and unconsciously begin hand-washing movements in a 'Pavlovian' salute to the times that are in it.
Andrew opened the official proceedings with a welcoming song he wrote originally for Bloomsday but had adapted and reworked in honour of the celebration of Myles Day.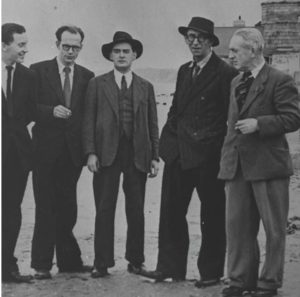 Patricia Cronin showed us her 'family' photo from the Irish Times which depicted her Uncle, Anthony, with BF&M and others that infamous time they went 'on the lash' to Sandycove and stopped for a pee at Sandymount Strand thus inaugurating the very first Bloomsday in Dublin in 1954.
Various readings were proffered by participants and gratefully received by the plain people of Ireland. These included Maeve Edwards (who treated us to 'the one about the egg'), Margaret Weatherill (who gave us a blast from the 'gramophone Irish Language recording sessions') and Conor O'Toole who, together with Kevin and Zan O'Doherty, gave us BF&M references to 'chemical cures' and other allusions appropriate to our current state of affairs.
Patricia Cronin entertained us with BF&M's description of the Irish jumper from 'At Swim Two Birds' while Joe Gallagher read the opening lines from 'the Dalkey Archives'.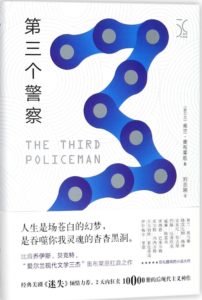 Séamus Cannon, displaying a mastery of 'ZOOM' (aptly?) displayed a Chinese version of 'The third Policeman' as well as directing our attention to O'Rourke's Pub in Blackrock where correspondence with BF&M regarding unpaid bar tabs is displayed.
Conor Fennell brought us back to our favourite author by mentioning that James Joyce described 'At Swim Two Birds' as a 'really funny book'.
(side-note: BF&M, although influenced by Joyce, is reputed to have said of him, 'I declare to God if I hear that name Joyce one more time I will surely froth at the gob.')
Mary Milne recounted an anecdote of a theatre visit involving BF&M.
There was some music played over the interweb with Peter Lynch giving a rendition of Buddy Holly's 'I guess it doesn't matter anymore' – still trying to see the BF&M connection – answers on a postcard please.
All good things come to an end and Andrew, in an act of unashamed narcissism led us in a closing chorus of 'When I'm Sixty Four' in recognition of his advancing years.
Happy Birthday Andrew and thanks for organising such a pleasant morning and for keeping us connected in these viral times.
Apologies to those whose contributions were omitted in this report.
It is important to remember that, while we are physically distant, we can still connect as this gathering proved. Don't hesitate to contact a friend if you are in need or finding things difficult.
Ah, the interweb and that Zoom thingy – they're your only man!!