We are delighted to welcome back Paul O'Hanrahan (of 'Balloonatics' Theatre Company fame) who will join us at the tower on Wednesday 23rd and Saturday 26th August at 2.00 pm to perform his wonderful adaption of the opening chapter (Telemachus) of our favourite book 'Ulysses'.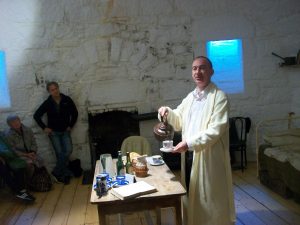 Paul is no stranger to the tower and, if you haven't seen him perform as all of the characters from 'Telemachus', we strongly recommend you get to one of these scheduled performances.
There is nothing more exciting than seeing Paul reenacting the opening episode of Ulysses in the place where it all began – our iconic tower.
Admission is free.