Sadie Delaney (Former S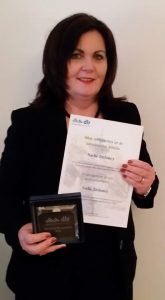 ecretary and current Thursday Coordinator, FJT) has been presented with an award for her outstanding service to the community in her volunteer roles at the James Joyce Tower & Museum.

Sadie was presented with her award at a function  to honour 'local heroes' in the DLRCoCo area. This is a part of  DLR's 'An Cathaoirleach's Celebration of Volunteers'.
It recognises people who,

through their selfless dedication and service to their local community, make a difference to the quality of life in their area.