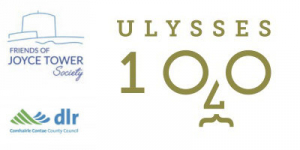 Friends of  Joyce Tower, in collaboration with DLR Tourism & Heritage
are delighted to announce the following Programme of Events to celebrate the 100th birthday of James Joyce's Ulysses. 
Event specific Booking details are included and interest is considerable with our marquee Centenary Concert, Chamber Music at the Pavilion is well on the way to selling out.  
Capacity is limited due to the pandemic and to manage attendance we have introduced a nominal booking fee for most events.
Note: Masks must be worn for indoor events.