On Saturday, Bloomsday itself, The James Joyce Tower & Museum hosted what must have been the busiest and most successful Bloomsday ever!
Nature smiled and the weather was (except for one short shower) beautiful and sunny.
The day began with the curator, Robert Nicholson, raising the flag at 8.00 am and an assembled gathering of Joyce stalwarts starting their celebrations by visiting at this, the same time as 'the stately plump Buck Mulligan' had his now famous shave in 1904 and 'Ulysses' began.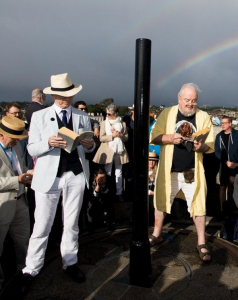 Books were date – stamped and visitors emerged from the stair head atop the tower to enjoy a re-enactment of Telemachus performed by Friends of Joyce Tower Society volunteers Seamus Cannon, Aidan Coleman and Andrew Basquille. (Andrew, later, treated us to his three self composed songs about the tower, the volunteers and 'Ulysses').
At 9.00 am, as promised, Bryan Murray began his readings from 'Ulysses' which were to be enjoyed by visitors to the tower throughout the day. All were moved by Bryan's wonderful delivery of Joyce's words.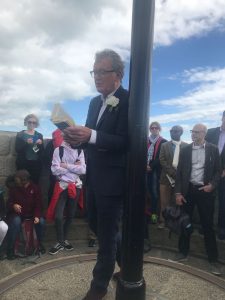 The lovely Caitríona NÍ Threasaigh returned to the tower with Mary Pat Moloney and, outside the tower, delighted visitors with their performance of the washerwomen from 'Finnegans Wake'. They performed this extract twice and Caitríona, also, twice delivered a reprise from her wonderful interpretation of Molly Bloom's soliloquy – once from the top of the tower.
A musical interlude was provided by Wendy Goodbody and her musicians who sang many Joyce inspired songs interspersed with readings from 'Ulysses'.
We had many special visitors throughout the day with the great and the good coming to pay homage to James Joyce at the omphalos.  A special mention must be made of Joyce's Grandnephew, Philip Joyce and his sisters Dorothy and Marjorie.  Philip even sang for us and, momentarily, made us kings and queens with his version of 'The Dublin Saunter' ('Dublin can be heaven…')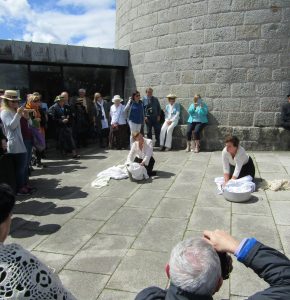 Yes, Bloomsday at the tower is all about crowd management (there were 1276 visitors counted – we always miss a few – on Saturday) and, yes, it is  not easy for visitors to properly appreciate what our wonderful little museum has to offer under these 'war' conditions but the day is special. It is important for any Joyce enthusiast to be there. Every day, the James Joyce Tower & Museum is the centre of the Jocean world. On Bloomsday, it is the centre of its universe!
Many thanks to all the FJT volunteers who, throughout the weeklong Bloomsday Festival celebrations, dressed up, staffed the tower and created an atmosphere of welcome that makes this place so special and so magical.
Now, let's get planning for Bloomsday 2019.