Mmm…
I'm still not sure if Sinead Murphy and Darina Gallagher actually have a collective name but I have heard them referred to as the 'Seaside Girls' and, given their nautically inspired attire when performing, the title is certainly appropriate – if not quite accurate.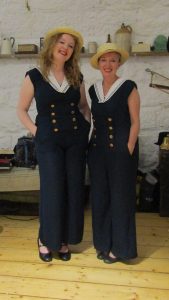 Whatever about the name, the combined harmonies of Sinead and Darina as they brought their highly entertaining interpretations of some much-loved popular songs of the early 20th century, was greatly appreciated by a packed Round Room at the James Joyce Tower & Museum on Friday last (the day before Bloomsday itself).
Darina and Sinead have been enthralling and delighting audiences with their Joyce – based shows for many years and have performed musical shows based on his works in Ireland and abroad. Their production 'Songs of Joyce' brought them acclaim, not just in Ireland, but also in the UK, USA and Russia.
It was a great treat to have them performing at the tower as part of our Bloomsday celebrations. Based the hugely positive audience response the duo received at the tower (there were queues to talk with them post performance), I have no doubt that they will be back here again!
Thanks Sinead and Darina – we enjoyed hosting the 'Seaside Girls' and having you fill the tower with your wonderful voices.