The pinnacle of the Bloomsday Festival, Bloomsday itself, was a terrific day at the James Joyce Tower & Museum. It started at 8.00 am with the curator raising the flag and volunteer Seamus Cannon beginning the readings from 'Ulysses' atop the famous tower where Buck Mulligan began the novel on June 16 th 1904.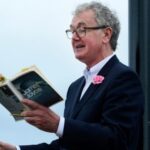 Bryan Murray delivered readings from the tower throughout the day and Cáitriona Ní Threasaigh returned to perform excerpts from her adaptation of Molly Bloom's soliloquy; firstly outside the tower and, later, from the gun platform. Other entertainment was provided by the 'James Joyce Warblers' a group of musicians and singers who sang Joycean songs and gave readings from 'Ulysses'.
We were joined by politicians galore with Mary Mitchell O'Connor TD and Cormac Devlin (chairman DLR) among them.
David Mc Williams was spotted with his guest, Booker prizewinner, Marlon James.
We were treated to the sight of budding joycean scholars from Loretto Primary school, resplendent in their 1904 attire.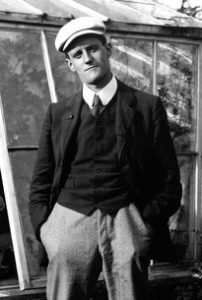 The weather was perfect and the day was most enjoyable. Many guests and volunteers retired to local hostelries to finish the day with a glass of Burgundy raised in memory of the man himself, James Joyce, pictured here in 1904 the year in which his creation the stately, plump Buck Mulligan would address the world from the top of our iconic tower and change literature forever.
Many thanks to all the volunteers of the Friends of Joyce Tower Society who contributed to the success of the Bloomsday Festival at the James Joyce Tower & Museum at Sandycove.
Thanks, also, to all of you who visited us over the Festival – we hope that you enjoyed the activities as much as we enjoyed your company.
Here's to Bloomsday 2018!