On Saturday, to mark the opening of our Bloomsday Festival Activities at the James Joyce Tower & Museum, we had a real treat when Cáitriona Ní Threasaigh performed as Molly Bloom for us – for the fifth year running!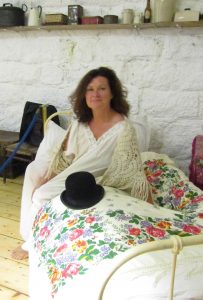 Is it any wonder that we keep inviting Cáitriona back to play Molly when she delivers such a fine performance of her interpretation of the character's soliloquy that so wonderfully ends Joyce's masterpiece, 'Ulysses'?
Cáitriona performed twice on Saturday. She transformed the tower's round room into the Blooms' bedroom at No 7, Eccles Street. We sat, entranced by Caitriona, as her Molly reviewed her day and, indeed, her life in words crafted so beautifully by James Joyce.
Leopold Bloom was represented by a bowler hat on the bed beside her while Molly, through Cáitriona, was brought to life; captivating us with recollections of her afternoon with Blazes Boylan, reminiscing about past lovers and exploring the development of her relationship with her husband, Leopold.
Cáitriona's two performances were greatly appreciated by the visitors and volunteers who filled the round room to experience this fabulous piece of theatre.
Thanks Cáitriona – hope you're available again next year!