Tom FitzGerald is a patient and tolerant man and it's not often that he throws people out of his fine inn at Sandycove. Recently, however, his son returned to Ireland and has taken up residence in Fitzgerald's forcing Tom to call time on the Friends of Joyce Tower Society Committee which met there every month pretty much since its inception.
Fitzgerald's is, of course, not just the venue of our committee meetings but also where the FJT Wednesday Reading Group (the Tweedys?) convenes to romp through Ulysses or Finnegans Wake. It is also the location of many an FJT social night. These activities will continue to take place in this revered establishment.  Fitzgerald's will continue as our 'watering hole' of choice.
The committee is, however, out – barred and banished to the Lexicon for future meetings.
Being contrary, we decided to mark our exile by presenting Tom Fitzgerald with a token of our appreciation for all he has done for us over the years.  During our Bloomsday Festival celebrations, we presented him with a beautiful picture of No.7, Eccles Street for which Charlie Hulgraine (committee member and artist) was commissioned.*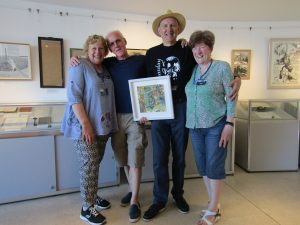 Tom (who was the Society's first Chairman) was delighted with the presentation and promised to treasure it forever.
Thanks, Tom, for your terrific support over the years.
(*It deserves mention that Charlie's fee for his wonderful work was donated, at his request, by the FJT to charity).