It is always nice to have our work at the James Joyce Tower & Museum recognised and, last Thursday night, James Holahan, Chairman Friends of Joyce Tower Society (who staff the tower on a voluntary basis), accepted an Award for Volunteerism 2017 from Dun Laoghaire/Rathdown County Council and the DLR Volunteer Centre.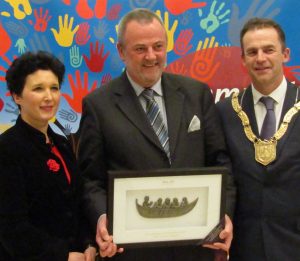 Speaking after the awards ceremony, the FJT Chairman said that he was extremely honoured to accept the award in recognition of the work done by all the volunteers of the FJT whose tireless efforts and great dedication ensure the continued success of the iconic Martello tower at Sandycove, County Dublin.
'Our volunteers are absolutely terrific and they are an inspiration to all who would like to play a positive role in their local communities', he said.
The James Joyce Tower & Museum will have attracted almost 45,000 visitors (most of whom are from overseas) by the end of this year. This has brought great benefit to local businesses and serves to promote cultural tourism abroad. 'None of this' according to Mr Holahan, ' would be possible without the selfless attitude and the great contribution of our wonderful volunteers'.
Congratulations to the Friends of Joyce Tower volunteers on this award.
The FJT would also like to take this opportunity to congratulate Kay Gleeson and Lua McIlraith (volunteers with FJT) who received individual awards from DLR CoCo/Volunteer Centre for their voluntary work in areas outside of their roles as volunteers with the FJT.