We are always delighted to make new friends at the James Joyce Tower & Museum and we are even more thrilled when they have a connection with James Joyce's masterpiece 'Ulysses' which, of course, opens atop our famous tower.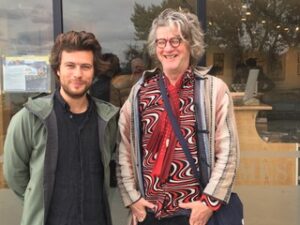 This week we welcomed Erik Bindirvoet and his son to the museum.  Erik informed us proudly that he had translated 'Ulysses' and 'Finnegans Wake' into Dutch.
He was mightily chuffed to see that there was a copy of his Dutch version in our collection of translations from around the world.
Some wag remarked (quite cynically) that, now that these wonderful books by Joyce have been translated into Dutch, it can only be a matter of time before we get someone to translate them into English!