Representatives of the Friends of Joyce Tower Society travelled to Cork over the weekend to attend the IPB Pride of Place Awards 2018. We were there at the invitation of Dun Laoghaire Rathdown County Council who had nominated the Society for an award in the Pride of Place tourism category.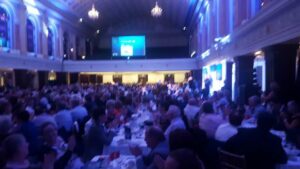 The Pride of Place Awards is a nationwide competition run in conjunction with Co-operation Ireland (a body established to encourage cross border cooperation and communication throughout the island of Ireland). The competition is designed to recognise the massive contribution of volunteer organisations working with their local authorities to create a better living environment for their citizens. Community work of all kinds is recognised and the Pride of Place awards are a bit like the Oscars for community volunteer groups.
FJT presented our work in the community in writing and in a presentation to the judges a couple of months ago. Disappointingly (despite our hard work), we did not win the top prize this time round.
The 'Oscar' for our category (tourism) went to the folk who set up the Barack Obama Plaza at Moneygall, Co. Offaly. Our congratulations to them on their wonderful achievement. You can visit them here: www.barackobamaplaza.ie/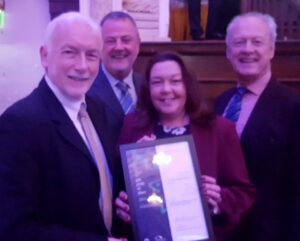 We did, however, receive a Pride of Place Certificate in recognition of our contribution to the community which was presented to us at the Cork event by Sandra Kelly – Area Community Officer DLR CoCo.
The awards ceremony in Cork was a terrific occasion and we were very proud to represent our County at this prestigious event.
I would never suggest that we are sore losers but, later on that evening,  we were captured trying to steal a trophy from a winning group from Dun Laoghaire Rathdown County Estate Management Fora with whom we shared a table on the night!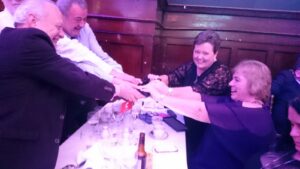 Thanks to Sandra and her colleagues at DLR CoCo for nominating us and for organising our trip to Cork.
It was a very enjoyable excursion to the Peoples' Republic.