In celebration of James Joyce's Birthday (2nd February 1882), we are delighted to invite you to a free performance of Robert Gogan's much acclaimed 'Strolling Through Ulysses!' which will take place at the James Joyce Tower & Museum at 1.00 pm on Saturday 2nd February.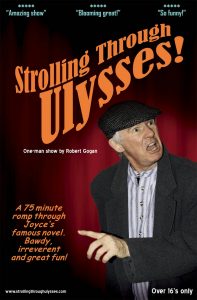 Due to space restrictions at the tower, places will be strictly limited and allocated on a first-come-first-served basis so, get there early to secure your place.
'Strolling Through Ulysses!' unlocks Joyce's masterpiece, bringing the characters to life and unravelling the mysteries.
So take a deep breath as you travel on this 75 minute romp through Ulysses, with all the fun and laughter which is the backbone of this extraordinary and iconic novel.