Last Friday evening, the Friends of Joyce Tower Society marked the birthday of James Joyce with a table quiz for their members at the Fitzpatrick Castle Hotel.
The Quiz was organised by Andrew Basquille, Séamus Cannon, Mike Fitzgerald and Conor Fennel. Their months of preparation became evident and, through their Trojan efforts, a terrific night was had by all.
Conor and Séamus prepared the questions, Andrew was the quizmaster for the night and Mike … well, it was a great night!
Congratulations to the winning team 'PAJ' whose members were:  PJ Murphy (of Sweny's fame) who gave all the answers to FJT volunteers:  Joan Cotter,  Aidan Coleman and Robert Walsh. Each member of the winning team received a wonderful limited edition of 'Dubliners' bearing the official stamps of Shakespeare & Co. and the James Joyce Museum.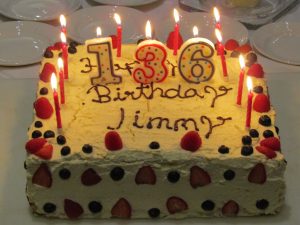 A free raffle was later held with a prize of a fine work depicting 17, North Richmond St. (from 'Araby') kindly donated by the artist Charles Hulgraine. Thank you, Charlie. It was won by a delighted Pat O'Kelly (Saturday Volunteer).
All present enjoyed a small beverage, good company and a specially commissioned birthday cake (supplied by 'Caviston's') in honour of the occasion.
'Odells Bistro' in Sandycove lent us their PA system for the night. Thanks, Johnny.
Thanks, again, to all those involved in the organisation of this event and, indeed, to all who joined in and displayed their great knowledge of the life and works of James Joyce.