The Winter of Heritage, Spring into Heritage and Summer of Heritage programes, are a series of free Guided Tours run by the Heritage Office of Dún Laoghaire Rathdown County Council.
The Friends of Joyce Tower Society has always been delighted to participate in these events and to offer the services of our wonderful and well-informed volunteers who give tours at designated times throughout the run of these programmes. This year, our volunteers will run tours at 10.30 am and 2.30 pm every day for the duration of the Winter of Heritage Event which runs from 22nd January to 18th February, 2018.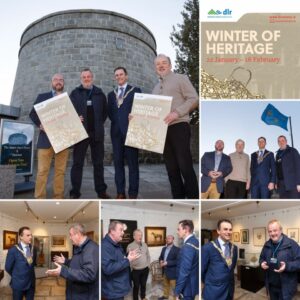 We were particularly delighted when James O'Sullivan (Heritage events coordinator at DLR) chose our Joyce Tower as the location of a 'photoshoot' to mark the launch of this year's Winter of Heritage activities. James works tirelessly in the promotion of all the various sites operated or Supported by DLR CoCo and we are very grateful to him for his ongoing support for the tower.
Apart from the great honour of being chosen, by James, for the announcement of the exciting Winter of Heritage programme of tours and lectures, we were also given an opportunity to welcome Tom Murphy the Cathaoirleach of DLR CoCo and wasted no time in showing him around the tower and museum.
For more details of the Winter of Heritage events please click on the image below: