A group of volunteers from the Friends of Joyce Tower Society were treated to a wonderful afternoon at the Dalkey Castle & Heritage Centre yesterday. And what an unforgettable experience it was!!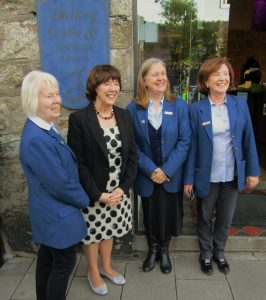 The volunteers were there as the guests of Margaret Dunne the Centre's manager (and host extraordinaire) who, after a warm welcome, passed the FJT group over to a splendid team of guides – Phil, Deirdre and Rita. They were only brilliant!
They took us on a journey that covered (among other things) a history of Dalkey, a tour of the castle and St. Begnet's Church and a literary walk around Maeve Binchy's beloved Dalkey.
We learnt a lot during our time in the capable hands of the Dalkey Castle & Heritage staff.  We learned that the 14th century castle (one of seven built in Dalkey) was really a secure building designed to offer protection for goods unloaded at Dalkey port (Colimore) – once Dublin's main access point for cargo ships.  We wondered at the castle's defences (similar to those at the Martello tower) and gasped at its laundry and sewage treatment – which seemed uncomfortably connected!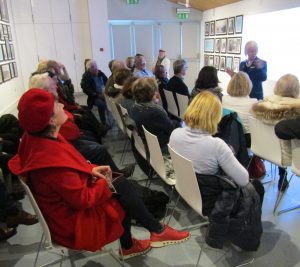 In the upstairs living quarters, we met with the lady of the castle, Lady Walshe, and her servant. They offered us some (very dodgy) Tudor food  and a haircut (with free surgery thrown in!). They also described many of the customs of the time – some of which are still reflected in our present-day vocabulary and expressions.
Outside, we visited and learned of the history of St. Begnet's church (700 ad).
We encountered an archer who seemed a bit rude at first. He insisted on 'showing us the fingers' before explaining his role in protecting us from the dreadful O'Tooles and O'Byrnes and describing, with glee, the various arrows and their deadly designs.
In the environs we were treated to a stroll around Dalkey and a pleasant stop in the Dalkey library 'Maeve Binchy' garden where the sun obligingly shone while we remembered the lovely person who wrote novels that touched the world's heart.
It was a fantastically enjoyable afternoon. We ended it with a cuppa at the castle and a pint in the Magpie Inn.
Thank you so much Margaret – we shall recommend, with even greater confidence,  that our tower visitors visit the castle and, like us, enjoy the great hospitality to be found in that magical place.
For information about the Dalkey Castle & Heritage Centre, please go to: