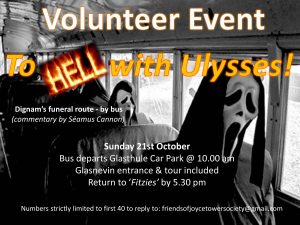 The Friends of Joyce Tower Society were always going to hell. Last Sunday, at last, the volunteers finally did it!
This, however, was no devilish pact or just deserts for wayward lives.  It was not even a punishment for the continued promotion of our favourite writer and his blasphemous book.
No, this was a bus ride to Hades following in the 'hoofsteps' of the Poor Paddy Dignam's funeral cortege as described in 'Ulysses'.
 Our guide for the day claimed to be repping for Corny Kelleher (the undertaker) and, while he boasted about how they stole the business from Nichols, I can't help thinking that he bore more than a passing resemblance to our own Séamus Cannon who, together with Charlie Hulgraine, had organised this trip to the underworld.
It all began quite innocently. In Glasthule. In a car park. Opposite the Holy Joe. Little did we know, as we ascended our luxury coach, what was in store for us on that faithless day.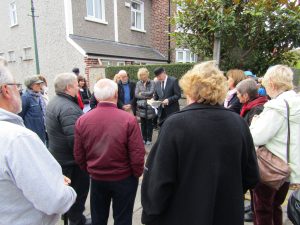 Off we sped – God's speed (I think not!). To Sandymount where, outside his house, we sang a song to God's mum and were mercilessly punished with rain…
…'Star of the Sea, pray for the wanderer, pray for me.
His red doorway – 9 Newbridge Ave. Poor old Paddy. So quick. Almost died with his boots on. Gerty thought it was a stroke that killed him (ha ha!). Sorry for your trouble.
Back in the cab. Push up Simon, Leo, Martin and Jack – it's a tight squeeze.
Over the first three bridges we are guided down Sackville Street. The Spire (can't see the point of that) that replaced the pillar and (up and early) the 'prick with the stick'. En route, did I imagine Blazes Boylan dither and Rueben Dodder? Was that Stephen?
Didn't we remark on the stone dead?
Near where Buck Mulligan really lived, to the left Bloom's house. Over there was John Joyce's last family home. The dead and fictitious were coming to life – quick, escape into a cemetery!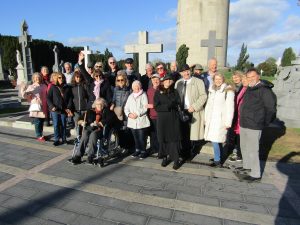 Over the fourth and last river, we descend into perdition.
Through the gates of the turreted walls that protect the dead we meet our new guide, John. He takes us on a journey filled with knowledge and delivers his lines… well… deadpan.
It really was interesting beyond words. To observe historic monuments and to see the final re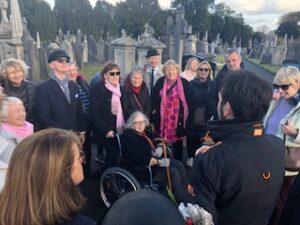 sting places of the real characters from Ulysses. To hear their stories and to share their words. Our Glasnevin 'Bloomsday Tour' was simply deadly!
Flowers (Blooms) were placed for Dignam. Sympathy Card signed. Our thoughts and prayers we left behind. Returned to the living. The safety of the Southside. Our brief excursion over.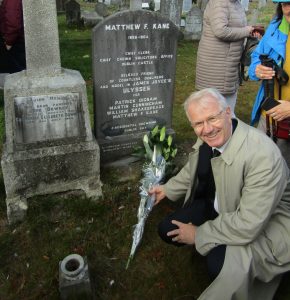 A great send off for Paddy Dignam – he looked like himself
Anyway, to hell with Ulysses!!
See you in Fitzies – the spirit world beckons!
Thanks Séamus and Charlie – it was a terrific outing.
For information regarding Glasnevin cemetery go to: