One of the many benefits of membership of the Friends of Joyce Tower Society (FJT) is the opportunity to participate in the terrific outings and events organised by the society throughout the year. Sometimes, these events are only deadly!
Last year for, for example, the FJT organised a re-enactment of Hades and paid its respects to Paddy Dignam in Glasnevin Cemetery.
This year, continuing this grave obsession, an expedition to Deansgrange cemetery ('To Memory Dear') was organised. It took place on Sunday 13th October and involved a tour of Joyce-related graves in that hallowed site.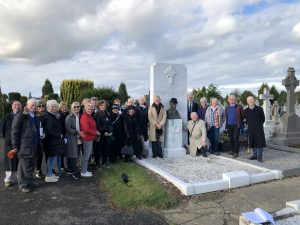 Deansgrange cemetery doesn't feature in Ulysses but several characters from the book are buried there. These include John McCormack, Davy Stephens (newsvendor), Josie Powell (Mrs. Breen), Myler Keogh (the boxer) and Thomas Lyster and Richard Best (librarians). The Dignam connection is maintained through the presence of the resting place of Dr.Thomas Finucane who attended poor Paddy in his last illness.
Twenty five FJT mourners turned up for the tour led by a trinity of pious eccentrics – Andrew Basquille, Frank Cogan and Séamus Cannon.
At each grave, a short introduction was given to describe the character buried below together with an appropriate reading from Ulysses.
It was a great honour to have Vivien Igoe (pictured) accompany the FJT mourners. Especially as her marvellous book, The Real People of Joyce's Ulysses, provided much of the information on the characters mentioned by the various speakers.
John McCann, the graveyard's supervisor, was of great assistance in preparing the visit to Deansgrange. His help in identifying the grave-sites (not all of which are easy to find) was invaluable.
In a moving gesture, flowers were laid on the unmarked graves of Dr. Finucane and Myler Keogh. It is hoped that the Friends of Joyce Tower Society will be able to arrange for appropriate plaques to better identify them in the future.
As the visit ended, a figure, dressed in a mackintosh, was seen hurrying from the graveyard. He refused to divulge his name, and his identity remains a mystery!
The tour ended at the grave of John McCormack with a poignant rendition of Love's Old Sweet Song after which, the mourners repaired to the nearest hostelry.
'Though lost to sight', Mr. Dedalus said, 'to memory dear'. (Ulysses)