'What a great experience. Paul was terrific and really engaging – he really made it (Telemachus) so interesting and easy to follow.'
'That was just perfect!'
'I have never read Ulysses – but I'm going to give it a go after that introduction.'
'I loved the way Paul brought the characters to life.  It was great to get a chance to meet Buck, Stephen and Haines at the tower and to hear them utter the words Joyce gave them.'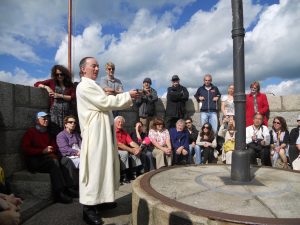 These are just a few of the comments made to us at the tower by those lucky folk who had just witnessed Paul O'Hanrahan as he enacted a wonderful reading/theatrical interpretation of Telemachus (the opening chapter of Ulysses) where it all began – the James Joyce Tower in Sandycove, Co. Dublin.
Paul who is a director of Balloonatics (a group formed in 1984 to promote literary theatre) performed twice at the tower as part of our National Heritage Week activities and he was only brilliant!
Starting atop the famous icon, Paul, dressed in a flowing yellow dressing gown, uttered the first line of Ulysses 'Statley plump Buck Mulligan came from the stairhead bearing a bowl on wih a mirror and a razor lay crossed…'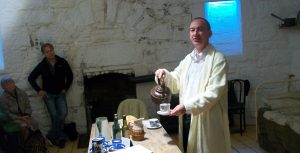 He had begun a terrific hour's entertainment for novices and experts of our favourite bard. During this hour, he led us (like a Joycean Pied Piper) through the opening of Ulysses taking on the personae of Buck Mulligan, Haines and Stephen Dedalus.  We shaved with him on the tower's ramparts, we breakfasted with him in the round room and, finally, we swam with him in the Forty Foot. Well, we didn't actually do all that – but he did!
This was not Paul's first time at the tower. Nor, I hope, will it be his last.
Thank you Paul for a most wonderful and memorable performance.