Well, it's week whatever of lock-down (seems like years!) and we're all in dire need of a haircut, we're going stir crazy and we're beginning to question the very origins of this pandemic that has changed our lives for the foreseeable future. Cue the conspiracy theorists.
Maybe it is the result of a Democrat Party hoax. Maybe Bill Gates does wants to inject us all with a tracker hidden in a curative vaccine. Maybe 5G is the real problem. None of these 'batty' theories, of course, could survive even minimal examination.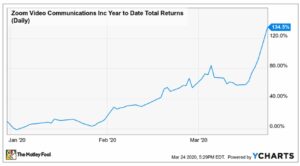 A much more plausible explanation of our predicament is that the entire business was dreamt up by the inventors of Zoom. Think about it. Who had more to gain than this, once relatively unknown, tech company? Now, its share price has more than doubled and it has become an all too familiar tool for our use in keeping connected and keeping socially close whilst maintaining physical contact.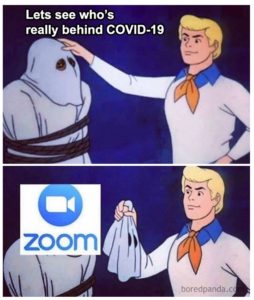 And the Wednesday Reading Group is getting closer and closer to mastering this new communications platform with every session.
During our online gatherings, there are increasingly fewer and fewer calls to 'unmute yourself!' or 'we can't see you!' and there is a bit more showboating of the more advanced Zoom features.
Who would have thought that a pandemic could have a hidden benefit in terms of enhancing our tech-savviness!
Last Wednesday, Patricia (Trish) Cronin was chosen to lead us in a Zoom session. She selected the writer JG Farrell as her subject matter because, she explained, of his connection to our local area.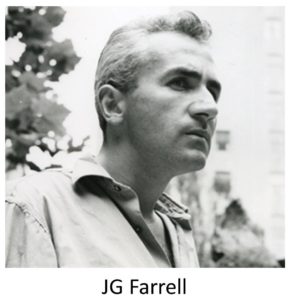 In an enthralling presentation including many interesting photos and exhibits (expertly displayed via Zoom) Trish guided us through a most interesting biography of the author.
Trish began by saying that her interest in Farrell began when she was on a literary bus tour organised during a 'Mountains to Sea' festival a number of years ago. As the tour brought her group down Saval Park Road she was surprised to hear that the author had lived there in the 1950s after his family moved from Shankhill.
Christened James Gordon Farrell, the writer would later use his initials (JG) to avoid any confusion with the contemporaneous American novelist James Thomas Farrell.
JG, Trish told us, was born in Liverpool in 1935 (the middle child of three boys). He was the son of William Farrell and Prudence Josephine Russell whom he (William) had met while on a cruise. William Farrell had spent some time in Bengal working as an accountant – an experience that would later influence JG in his writing when he, himself, would visit India.
William and Josephine lived in India and in Liverpool but, in 1947, they moved to Ireland when JG was a young boy. William, at this time, suffered terrible hearing problems.
JG was educated in England but spent his holidays at his new home(s) in Ireland. He became one of the 'Dalkey Set'of the time and he enjoyed rugby, tennis and cricket as well as an active social life. One of the prominent Kirwan family girls (who lived in Dalkey Lodge at the time) described JG as, 'the most handsome man in the world'.
JG is reported to have enjoyed walks down by our favourite Martello tower. He frequented the Astoria (Forum) cinema in Glasthule and went to the odd 'hop' in the Top Hat Ballroom in Dun Laoghaire.
After his secondary education, JG went to study Law at Oxford University where he excelled at rugby. Tragically, at this time, he was struck down with polio and was so severely affected that he spent some time in an 'iron lung' before commencing a long and only partially successful rehabilitation back in Ireland.
Undaunted by this setback, JG returned to Oxford where he graduated in 1960 with a degree in French and Spanish.
After College, JG lived in France, London and in the US (having been awarded a scholarship to write there).
It was while in Paris that JG's first book entitled 'A Man from Elsewhere' was published. This was followed by a book called 'The Lung' in which he drew upon his own experience of dealing with polio. He wrote his third novel, 'A Girl in the Head' while living in New York.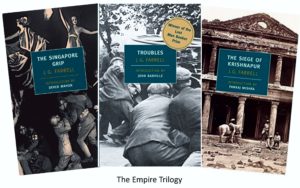 It was then that he began to write the historical fiction for which he would become best remembered. He became interested in the collapse of the British Empire and he wrote a trilogy (The Empire Trilogy) of wonderfully researched novels on the subject. The first,'Troubles', he wrote in 1970 In this novel, he explored the struggle for Irish independence. In 1973, after spending time in India, he wrote 'The Siege of Krishnapur', a fictional account of the 1857–58 Indian Mutiny and, in 1978, he wrote 'The Singapore Grip' (1978), the final novel in this series.
JG received much praise (and two Booker prizes!) in recognition of these novels. Salman Rushdie said of Farrell, 'there is no question that he would today be one of the really major novelists of the English language. The three novels that he did leave are all, in their different way, extraordinary'.
Trish ended her superb talk with a moving description of JG's tragic death at the age of 44. He had acquired a home in Co. Cork (Sheep's Head) and was fishing off some rocks on the shore of Bantry Bay when he was swept into the sea by a freak wave and drowned.
JG's untimely death was a testament to the character and valour of the author. A witness reported that he refused to allow a potential rescuer come to his aid for fear of endangering her life.
Given that JG was a noted 'ladies' man' who had never married, it was, perhaps, fitting that a memorial service dedicated to him in October 1979 was reported as having been attended by 'the best looking women in publishing'.
There were many contributions from the Wednesday Reading Group members after Trish opened the session for discussion.
Topics discussed by the group included; JG's nationality, his swimming ability, his politics, the lack of a plaque on his Dalkey residence, his view on James Joyce, and much, much more!
Thank you, Patricia Cronin, for a terrific insight into the life and works of JG Farrell and thank you Andrew for organising the session.
Until next time,
Stay Safe