2nd April Update: It has been established that the article below contains some many inaccuracies. Fact checking has revealed that, indeed, it is completely false. Our website was hacked on April 1st and left us feeling like complete (April) fools!
In an attempt to reassure the British that the Irish will always stand by them (despite the collective stupidity and xenophobia of Brexit), it has been decided that the James Joyce Tower & Museum will replace the traditional Munster flag that once flew atop the famous literary site with a Union Flag – more commonly known as a Union Jack.
It is hoped that this gesture, this wonderfully supplicant act of friendship, will meet with the approval of those inhabitants of the neighbouring mainland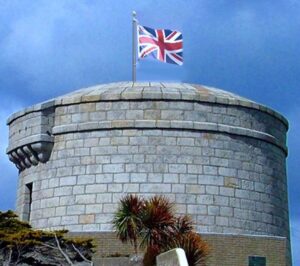 .
Speaking today at the launch of this conciliatory gesture, Foreign Office spokesperson, Ms Emma Vestbreet, stated that the move also reflected the history of the tower which was built in 1804, 'at a glorious time when Éire was still a part of the United Kingdom'.
She went on to say that she was also delighted at the news that talks had opened with Dun Laoghaire/Rathdown County Council with a view to reapplying the moniker 'Kingstown' to the adjacent town currently referred to as 'Dun Laoghaire'.
'In Ireland, we are eternally grateful to our British friends for so many things. We thank them for bringing civilisation to this country, for building these beautiful Martello towers, for our common language, culture and for our shared heritage', added Ms Vestbreet.
'This is, after all, where that great British writer, James Joyce, found inspiration for his wonderful book 'Ulysses', she said, adding (sotto voce), '… which I fully intend to read one day'.
Local Sinn Féin councillors, brothers Gary and Eoghan O'Neill, mounted a strong opposition to the planned change of pennant saying that our 1916 heroes would turn in their graves. 'This takes the biscuit – in fact, it takes an entire tin. No citizen should take this lying down', declared Gary and Eoghan but they were left chasing their tails as a motion to hoist the flag was passed by the local council despite their protestations.
It is reported that, in the near future, her majesty, the Queen, will visit the tower and witness, at first hand, this magnanimous gesture of friendship.
'When she does come to call on us she will undoubtedly wish to see all of us' said a representative of the Friends of Joyce Tower Society. 'I hope that she won't slip on the spiral staircase or she might tumble upon us,' he fretted.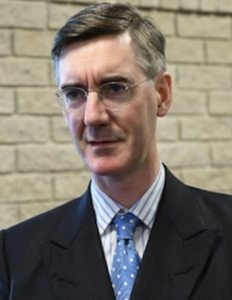 Speaking outside the tower as the Union flag was raised, special guest for the historic occasion, Jacob Rees Moog said, 'I am always delighted to view vestiges of our great empire when I visit Dublin to oversee my hedge fund. Everyone should visit this tower', he added. 'From the top, it affords a wonderful opportunity for one to look down on others – something which I enjoy immensely'.
'Te futueo et caballum tuum', exclaimed the assembled locals in response, knowing that the Right Honourable Mr Rees Moog appreciates the 'cúpla focal' as Latin.
Meanwhile, in the round room, to mark this special occasion, Sir Terry Wogan's ghost performed an endearing performance of 'The Floral Dance' accompanied, on the harp, by the spectre of Val Doonican. Aah… chamber music at its best!
The flag-changing event was also attended by many other well-known and successful Brits; Seesaw Ronan (actor), Sir Bob Geldof (gritty Brit), Cillian Murphy (actor) … the list is endless….bloody endless.
By all accounts, a jolly good time was had by all.  It certainly was a date to be remembered.