On Thursday night. the friends of Joyce Tower volunteers held a quiz night to mark the birthday of Nora Barnacle, James Joyce's partner.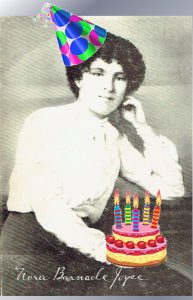 Nora was born on the 21st March, 1884 in the West of Ireland. Her father was a baker, her mother a dressmaker. Her early life was tumultuous and she lived with her Grandmother for some periods and, after the separation of her parents, with her Uncle and mother in Galway.
Nora met James in 1904 when she came to Dublin to work as a chambermaid in Finn's Hotel on Leinster Street (near Nassau Street).  They met on June 10th, 1904. She stood him up on June 14th when he first asked her out. She then relented and they had their first date on June 16th. Nora and James were married in London in 1931.
Nora became Joyce's companion and inspiration.  Some of his work is heavily influenced by her. 'The Dead', for example, borrows heavily on Nora's experiences as a young girl. Indeed, not only is Molly Bloom  thought to owe much to Nora as a character but Ulysses itself, set on June 16th 1904, is a recognition of the importance of that date to the author.
Some of these facts formed the answers to questions posed by Andrew Basquille as he performed as Quizmaster extraordinaire on Thursday night.
Conor Fennell and Anne Hughes set the questions which were a nice mixture of hard and really difficult ones. Their authority was often challenged throughout the night but it was all in jest (?). 'Did Joyce handwrite all his manuscripts'? Controversial ambiguity or what?
Anyway, team Wandering Rocks (Zan & Kevin O'Doherty, Julie Larkin & Owen McGartol) won the top prizes on the night so congratulations to them.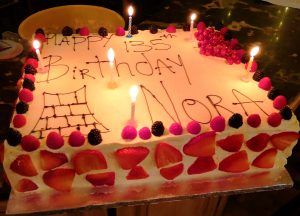 Pat Crowley organised a special birthday cake which was made by Peter Caviston and which certainly added to the occasion – it was delicious!
A good time was had by all.