Hmmm… while it seems so benign, there are clearly some worrying aspects to Zoom meetings. Some questions to be asked. Some things that need to be cleared up.
For example: are these meetings secure?
If reports are to be believed, there is a grave danger that our FJT Wednesday Reading Group Zoom sessions may be being monitored by the Pentagon or by the Chinese. Clearly, foreign governments would take a keen interest in the subversive elements within our group. I personally believe that we have been infiltrated by ANTIFA. We would appear to be a group with a suspiciously appropriate age profile. And what could threaten the very fabric of our society more than antifascism? People didn't lay down their lives in world wars so that… oh, wait a minute.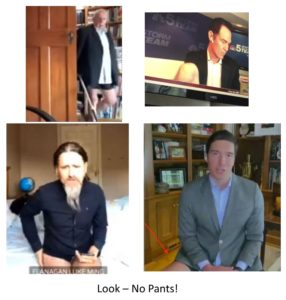 Anyways, A more worrying thought, of course, is the pressing issue of whether or not our fellow Zoomers are wearing pants during our sessions. The truth is – we may never know. Strangely, after extensive research, I have found that pantless Zooming appears to be an, almost exclusively, male behaviour. How do we know that our male members are not revealing themselves?
Well, maybe they are and, just like the guys pictured, will sometime unintentionally reveal their (Victoria?) secrets.
Give it over lads. Get your trousers on! It's time to start the session!
This week it was the turn of the fabulous Kieran McBride to deliver some thoughts on the life and poetry of Oliver St John Gogarty on whom the character, 'Buck Mulligan', is based in Joyce's novel 'Ulysses'.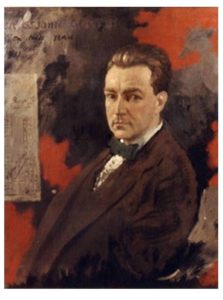 Kieran went to a lot of trouble in preparing his talk and had distributed an excellent summary of key events in Gogarty's life together with a number of poems he wanted to share with us.
Drawing our attention to his listed highlights of Gogarty's life, he disputed the adage that 'Poets don't do anything else but write poetry' and stated that Gogarty (who was a medical doctor, an athlete, an aviator, a politician and more) made a lie of this view.
Then, in a nod to a previous Zoom session on Sean Ó Faolain, Kieran quoted that writer as saying of Gogarty; 'He was a kind and sensitive man, full of verve and zest' – a view that Kieran clearly shared.
Kieran went on to urge us, like Ó Faolain to separate the real Gogarty from Joyce's characterisation of him as Mulligan which, he contended, was most unjust, unfair and untrue. He referenced Ulick Ó Connor's biography of Gogarty as a good source for the discovery of the man himself.
Kieran went on to introduce his first choice – Gogarty's poem, 'Golden Stockings' -which he described as a nostalgic recollection by Gogarty of his daughter running through a field of buttercups while on a family picnic.
The poem was not universally accepted by fellow Zoomers as an example of fine poetry with Mary Weatherill critiquing it for its superficiality/sentimentality and its inability to engage the deeper thoughts of its reader.
Undaunted, Kieran introducing his next Gogarty poem, 'To the Liffey with Swans' gave us a description of Gogarty as a political figure – his views on social progress (children's welfare, women's health, family planning etc.).
He went on to illustrate the hardships he endured as a result of his service to our nation as the state became partitioned.
He recounted how Gogarty, in his role as a physician had, with great sadness, laid out the bodies of two of his political heroes; Arthur Griffith and Michael Collins.
He described how, as a 'Free State' senator, Gogarty had narrowly escaped an assassination attempt whilst captive at Island Bridge by swimming across the Liffey.
He related how Gogarty's home (Renvyle House) was later burnt down and many important manuscripts (including correspondence with Joyce) lost forever.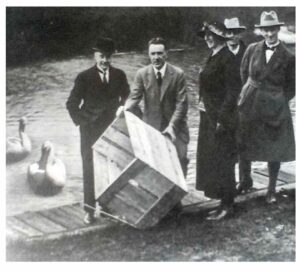 It was in celebration of his escape by Liffey that Gogarty wrote 'To the Liffey with Swans' which Kieran read aloud adding that Gogarty did, indeed, release two swans to give thanks to the Liffey for saving his life.
Kieran took us through the mock heroic elements of the poem, its nods to Greek mythology, Shakespeare and to a shared joke with Gogarty's pal and supporter, WB Yeats.
At this point James Holahan (who had claimed to be a Gogarty fan) opined that he found Gogarty's poetry a bit 'rhymey' and wondered if the rhyming of the words was more important than their meaning. In response, Kieran pointed to the fact that Gogarty was a classical poet rather than a modernist and that was the style/discipline to which he adhered.
In the interests of time, Kieran skipped through the poem 'Angels' in order to give a bit more time to the last two poems on his list: 'Perennial' and 'Palinode'. The latter he described as an apology by Gogarty for his somewhat wasted (in all senses of the word?) time as a young man.
Conor O'Toole suggested that Gogarty's regret may have resulted from his days as a mediclal student when he took ten years to qualify and only four to become a surgeon. Liz McManus wondered if it related to his time as a senator.
I'm still not sure how it began but it was during these discussions that followed the reading of the poems that the normally subdued FJT Wednesday Reading Group Zoomers became uneasy if not a wee bit hostile to Gogarty.
Perhaps it was when someone provocatively suggested that 'without Gogarty, 'Ulysses' would never have been written'.
At any rate, sides were taken and a lively debate ensued. The fight was on! Joyce vs Gogarty!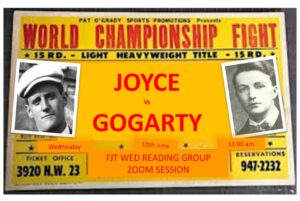 Heinz Lechleiter, referencing the law case regarding the novel 'As I Was Going Down Sackville Street') demanded to know if Gogarty was antisemetic. Maggie FitzGerald was appalled at his abandonment of his family when he decided to remain in the USA after a literary tour there. Des Moriarty said that Gogarty may have been a genius but 'not nearly the genius he thought himself to be'.
It was Philip Pearson, however, who was, by far, Gogarty's biggest critic during the session. Philip denounced him as an elite, swanning around the countryside in his yellow Rolls Royce. He described him as 'a good medical man perhaps but a poor poet'.
Julie Larkin diffused the situation somewhat when she came to Gogarty's defense stating, quite reasonably, that he had supported our favourite author in many ways. Not least, by accommodating him at the tower and so ensuring an opening to 'Ulysses' that would have seemed far less compelling if set elsewhere.
Throughout it all, Kieran McBride stalwartly defended Gogarty and through dogged and learned presentation enlightened us and entertained us and may even have persuaded some of us that Gogarty should be remembered as a key player in Irish cultural, political and literary history.
Thank you Kieran McBride for a well prepared, well presented and well-argued dissertation/debate on Gogarty. It will surely rank as one of our best and most engaging sessions to date.
I am certain the CIA, MMS and all others listening in enjoyed it immensely.
Thanks, as always, to Andrew for organising it.
Until next time,
Stay safe