Wow, we're really getting the hang of this Zoomy thingy at last.
Whilst virtual meetings are terrific (and a great way to keep in touch), the key benefit of the FJT sessions is, of course, that we get an opportunity to judge fellow members by the backgrounds they choose for these riveting Wednesday Reading Group online sessions.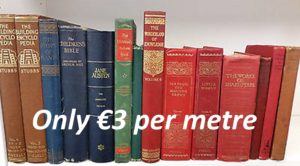 Most commonly, those who would have us think of them as intellectuals position themselves in front of walls of well stocked bookshelves – even Andrew has stocked his (once empty) bookcase. Note: for those of you who are feeling inadequate, I'm told that rows of books can be purchased online by the metre for such pretentious purposes.
Other FJT Zoomers sit in front of strategically positioned original artworks as if to declare that they have come a long way from the Beardsley prints of old – next, they'll deny that they ever partied on Black Tower and assure us that they have never ever owned a wicker lamp fashioned from an empty Chianti bottle!
Still others demonstrate, with impeccable taste, a minimalist existence through the medium of the 'no nonsense' blank wall backdrop.
We are treated to glimpses of the studies, the dining rooms, the bedrooms and even the bathrooms of our Joycean allies.
Ah yes, much is revealed by the conscious and unconscious choices of the participants' settings.
For last Wednesday's session, the wonderful Margaret Weatherill, treated us to a reading and analysis of three of her favourite poems which she attested would offer hope and some respite from our current covid-19 inflicted solitude.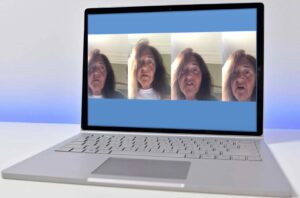 Margaret's chosen pieces were:
'Canal Bank Walk' by Patrick Kavanagh https://allpoetry.com/Canal-Bank-Walk
'Birches' by Robert Frost https://allpoetry.com/Birches
'Snake' by DH Lawrence https://allpoetry.com/poem/8510533-Snake-by-D-H-Lawrence
The poems were read to us, in turn, by Margaret who then, in each case, proffered her own interpretation of the work before opening up a group discussion.
Needless to say, the input from such a learned and highbrow group was as entertaining as it was informative.
**********
For 'Canal Bank Walk' (written shortly after Kavanagh was released from a hospital stay), Mary Milne saw a relevance to a time when we can all emerge, once more, from our current dreadful isolation and renew our connection with nature.
Conor O'Toole noted a theme of Science and spirituality in the sonnet.
Zan O'Doherty spoke of a better understanding of 'what really matters' gained after a serious illness.
I think it was Margaret herself who, continuing this thread, referenced Dennis Potter's last interview with Melvin Bragg where, facing his imminent demise Potter remarked, 'The only thing you know for sure is the present tense, and that nowness becomes so vivid that, almost in a perverse sort of way, I'm almost serene. You know, I can celebrate life'.
**********
Next poem up was Robert Frost's 'Birches' which, after Margaret's reading, brought many comments from the group.
Patricia O'Kelly, for example, described it as one of her favourite poems that brought out the child in her.
Mary Milne and Michael Roddy were able, as Americans, to give great first-hand accounts of the power and the beauty of ice storms mentioned in the poem.
Others added to our enjoyment by referencing Frost's stature as America's unofficial poet laureate and mentioning his participation in JFK's inauguration.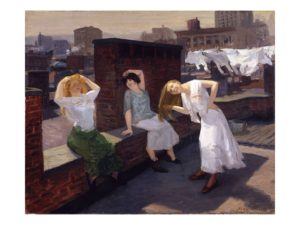 Lines from the poem prompted Heinz Lechleiter to draw our attention to the John Sloan painting 'Women Drying Hair'.
Maureen Keenan (who talks to birds?) spoke of Frost's ability to resonate with all classes despite his classical education – he was, she said, fluent in Latin and Greek.
***********
I personally believe that Margaret saved the best till last as she introduced (or reintroduced) us to DH Lawrence's 'Snake'.
Describing and encounter with said creature while fetching water in Sicily in the summer of 1923, Lawrence brings the scene to life with his words. We are transported to an arid, hot and dusty garden and we share the author/poet's experience through his vivid and immersive commentary.
Julie Larkin commented that the words of the poem evoked a feeling of actually being present and experiencing the moment as described while Michael Roddy remarked that the heat and the dryness were palpable.
Kieran McBride drew our attention to the religious undertones of the snake imagery and Conor O'Toole mentioned the onomatopoeic effect of the repeated use of 's' words.
**********
After Margaret was thanked and praised for guiding us through these wonderful poems, the online session ended with a reminder from Mary Milne of the recent passing of the poet, Eavan Boland as she recited her poem 'This Moment'.
This Moment
A neighbourhood.
At dusk.

Things are getting ready
to happen
out of sight.

Stars and moths.
And rinds slanting around fruit.

But not yet.

One tree is black.
One window is yellow as butter.

A woman leans down to catch a child
who has run into her arms
this moment.

Stars rise.
Moths flutter.
Apples sweeten in the dark.
As always, the time seemed to fly by and, before we knew it, the Zoom session was over. Thank you Andrew for organising the event and thank you Margaret for sharing your favourite poems and your thoughts with us.
It is terrific to maintain contact even as we cocoon.
Stay safe everyone.