Often, the pre-session chatter of the FJT Wednesday Reading Group Zoom meeting is as enjoyable as the session itself. Last Wednesday, the early Zoom attendees spoke of the possibility of the virtual gathering being 'Zoom bombed'.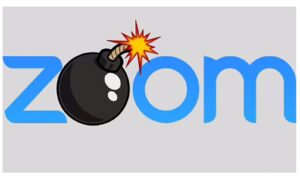 As the name suggests, 'Zoom bombing' describes a cyberattack on the meeting call where an uninvited individual or a group enter without the permission of the host.
As well as disrupting the session, some Zoom 'bombers' post offensive images and even hate speech. Others have even interrupted meetings with live streamed pornography.
Here's an example of a meeting where a bomber has posted an image of their bare ass!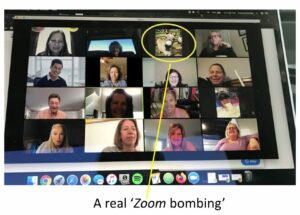 Makes you wonder just how private Zoom meetings really are.
Well, we didn't let such concerns interfere with yet another fantastically informative and entertaining talk as Pól Ó Duibhir (a master of Zoom backgrounds!) took us through a wonderful presentation on the defences of Killiney Bay around the time of the 1798 rebellion and on to the construction of the Martello Towers and associated gun emplacements which were erected in 1804 to defend against a threatened Napoleonic invasion.
Pól began by explaining how, as a resident of Ballybrack/Killiney, he became interested in the history of the area and carried out extensive and detailed research into various aspects of the local military installations.
As part of his research, Pól explained, he found references in the National Library that led him to an early study of the defences of Killiney Bay.
Titled 'Reconnoisse Militaire de la Baye de Killeeny', this 1797 report (in French) was commissioned by the 2nd Earl of Carhampton and carried out by a chap called Major La Chaussée.
La Chaussée, we were informed, was a French royalist who fled his country (because of the revolution) and worked for the British. Among other tasks in Ireland, he was commissioned to write a report on the defences of Killiney Bay because of the fear of a French landing in this area.
Pól described his research into La Chaussée and recounted his time in Ireland, his return to London and, then, France and even his link to an assassination attempt on Napoleon.
His real focus, however, was on the Frenchman's report on Killiney bay which Pól described as extremely detailed.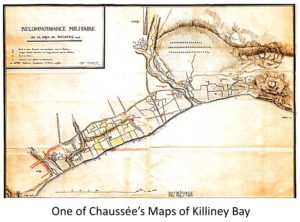 One of La Chaussée's observations was that, while Dublin Bay was curved, the section around Killiney was, to all intents and purposes, straight and not a curve at all!
Pól described the recommended fortifications which La Chaussée thought necessary to secure the bay and displayed La Chaussée's map which also included the military camp at Loughlinstown.
Next, we were treated, by Pól, to a summary of the attempts by the United Irishmen to win over the support of the soldiers stationed at Loughlinstown for the 1798 rebellion.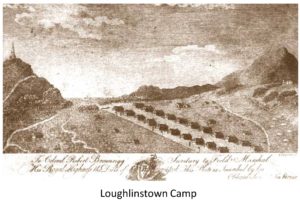 Centre to Pól's account of this period was his description of the recruitment of Captain John Warneford Armstrong of the King's County Regiment, stationed in Loughlinstown, into the United Irishmen on 10 May 1798.
Armstrong's diary from the time showed how he was, in fact, working as a double agent and reporting on his meetings with the United Irishmen.
One particular incident related by Pól involved Armstrong's attendance at a clandestine meeting in order to prove his bone fides to the rebels. A scary tale indeed!
Pól went on to give a summary of the development of the Killiney Martello defense system built in 1804 and comprising 9 towers or gun batteries.
He also described the current state of each as follows:
Tower No. 1 – Bray demolished to make way for esplanade
Tower No. 2 – Bray point. Private residence (one time home of U2's Bono)
Tower No. 3 – Corke Abbey demolished
Tower No. 4 – Maghera Point, Shankill demolished
Tower No. 5 – Actually not a tower but a battery some structure remains
Tower No. 6 – Strand Road/Killiney Beach 'Enoch's tower' poorly converted
Tower No. 7– Tara Hill. Wonderfully restored Tower and associated structures
Tower No. 8 – Limekiln Battery (not a tower) removed during railway construction
Tower No. 9 – Dalkey Island. To be restored by DLR CoCo?
Pól ended his talk with an amusing anecdote about a surprise visitor to Killiney beach… Horatio Nelson's head!!!!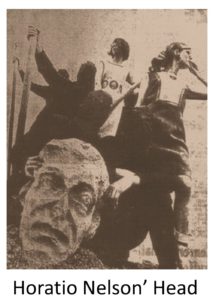 No, not the real one; but the stony head of Nelson's statue that was retrieved when it was blown from its perch atop the pillar on O'Connell Street and unofficially paraded around the city as a promotional tool.
So there you have it. We're right back talking about Zoom bombers.
Thank you Pól Ó Duibhir for a terrific and most interesting presentation.
Thanks also to Andrew Basquille and to Joe Gallagher for organising our Zoom sessions and for keeping us in touch.
Until next time…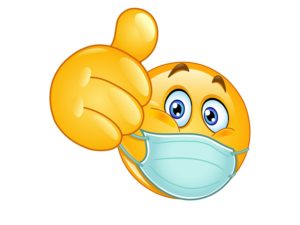 Stay safe!