In previous missives, I have expressed my profound gratitude that Zoom exists as a communication tool in these times of isolation and social distancing. Indeed, it is hard to imagine how we could endure this dreadful Covid-19 thingy without the interweb (in general) and Zoom (in particular) to keep us connected.
I find it hard to envisage the world as it was before modern telecommunications uniting us and keeping us all (reasonably) sane.
I was of the opinion that Zoom was established in 2011 so imagine my surprise when I found evidence on the interweb (so it must be true!) that Zoom may have been around for much longer than you might think.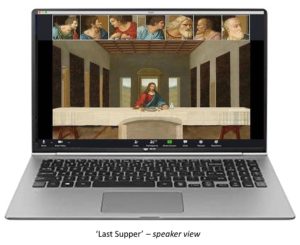 In support of this view, let me share with you this undeniable and authentic portrayal of Zoom in the earliest Christian times painted by Leonardo da Vinci in the late 15th century.
Clearly the interweb and Zoom has been around for a lot longer than we are lead to believe. As further proof, let us look to the 'Bible' and a clear reference to Google contained in the venerable book:
Esther 2:2: 'Then the king's personal attendants proposed: 'Let a search be made for beautiful young virgins for the king.'
However, let me counsel strongly against entering the term 'beautiful young virgins' into a Google search – the results could be quite shocking and you may be arrested!
Anyways, however long it has been around, Zoom has provided the FJT Wednesday Reading Group with wonderful sessions lead by extremely talented contributors who have entertained us on a wide variety of topics.
This time, it was the turn of the enchanting, enthusiastic and engaging Olive Rolstone who had previously and recklessly 'volunteered herself' to give a talk on her favourite singer/painter: William Percy French.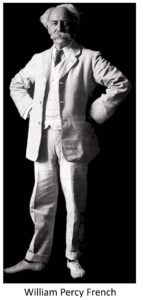 French was a great favourite of Olive's father, we were told, and their home was filled with his music. Thus, her interest in French was kindled at an early age and continued to develop throughout her life. Indeed, Olive has attended all but one of the Percy French festivals which take place annually in County Roscommon in his honour. She is a true fan and that became clear during her riveting presentation.
Olive began her talk by giving us a bit of background on the French family which, she said, had a long history in Ireland.
One of nine children, William Percy French was born on the 1st May 1854 at Cloonyquin House, Co. Roscommon. The French family has ties to the area dating back to the early part of the 17th Century.
Educated at Windermere College and later at Foyle College, French went on to become a student at Trinity College, Dublin in 1872. Here, he spent an inordinate amount of time earning his degree in Civil Engineering (Olive joked that her own dad would have rivalled French as an 'eternal undergraduate').
Whilst at Trinity, French developed a keen interest in music (he learnt to play the banjo) and began to paint in watercolours. These would become his two great passions. It was at this time that French composed one of his most famous songs 'Abdallah Bulbul Ameer' for a university concert. Not appreciating how popular the ditty would become, French sold the rights for a mere £5!
French went on to pursue a short-lived career as a civil engineer but he was not a devoted 'Inspector of Drains' preferring to use the opportunities presented to him to travel and meet with various interesting people around Ireland. He made full use of his travel expenses by cycling everywhere and staying in friends' houses, remarked Olive, and he also used his encounters and the stories recounted to him as a source of inspiration for his songs.
Olive described, in great detail, the origins of many of French's best known songs including 'Phil the Fluter's Ball', 'Come back Paddy Reilly to Ballyjamesduff', 'Are you right there Michael?' and, perhaps, his most famous 'Mountains of Mourne'.
Sadly, the Zoom gods were in a foul humour during Olive's presentation and the technology did not perform as well as Olive deserved and so I'm including links to the songs mentioned by Olive below:
Abdallah Bulbul Ameer 
click here

Phil the Fluter's Ball 
click here

Come back Paddy Reilly
click here

Are you right there Michael? 
click here

Mountains of Mourne 
click here
Olive went on to describe French's passion for watercolour painting extolling the prolificacy and quality of his work and stating that his paintings now fetch a good prices at auction – check the attic guys!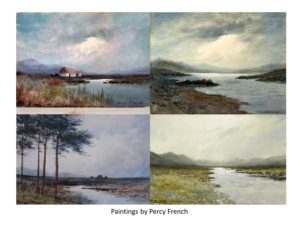 French's private life was not always easy we were told. His first wife (Ethel Armitage-Moore) died while giving birth. She was only 20 years old. Their baby daughter also perished.
Some years later French married Helen Sheldon whom he had met in Dublin at a performance of his musical 'Strongbow'. The couple produced three daughters and lived in St John's Wood in London.
French, we learnt, was a songster, a painter, an editor, a philanthropist… and more. He was popular among royalty as well as being appreciated by normal folk. He was small in stature (only 5ft 2ins) and resembled Mark Twain. He travelled extensively in Ireland, the United Kingdom and in the United States of America.
When he passed away from pneumonia in 1920, he was mourned by many around the world. He is buried in the churchyard of St Luke's Parish Church, Formby, Merseyside.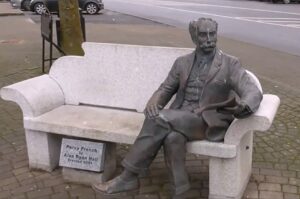 His legacy is his wonderful music and his paintings and he is remembered with benches in Dublin and Ballyjamesduff. In March 2020, a memorial to French was unveiled in Newcastle, Co. Down, in sight of the Mountains of Mourne,
He was also, as previously stated, a firm favourite of Mr Rolstone and he inspired a little girl who grew up listening to his songs.
Thank you, Olive Rolstone, for sharing your knowledge of French with such enthusiasm and warmth.
As always in these sessions, there was a chance for the FJT Zoomers to make comments and ask questions after Olive's terrifically interesting talk.
Andrew Basquille mentioned his song 'The Oklahoma Rose' and how some of its lyrics would be deemed politically incorrect today.
Aidan Coleman entertained us with a verse from 'Eileen Óg' and spoke of 35 Mespil Road where French lived for a period and the nearby Canal bank bench dedicated to him.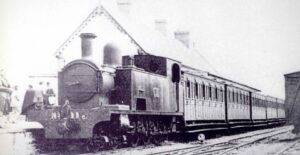 There were contributions from other members including Anne Hughes who spoke of personal memories of the West Clare Railway that inspired 'Are you Right there Michael?'
Mary Milne asked about the Percy French Festival in these Pandemic times and Olive described the social distancing set up that was applied to a lower than customary attendance.
Thanks again Olive for giving us such a fabulous insight into the life and works of William Percy French.
Thanks, also, to Andrew Basquille and Joe Gallagher for organising yet another brilliant Zoom session.
Until next time…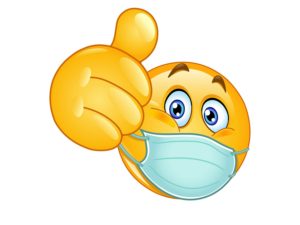 Stay safe!