Robert Nicholson, curator of The James Joyce Tower, gave a very special tour, at the tower, this morning.
The occasion was a celebration of Robert's 40th anniversary working at the tower.  Robert first began his long-standing association with this magical place on May 1st, 1978.
Robert described how he had arrived at the James Joyce Tower & Museum even before the extension had been built and when the museum was housed only in the Martello tower itself.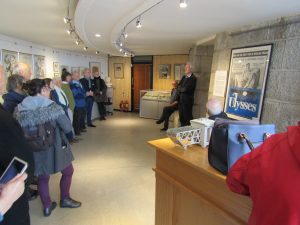 Robert, like James Joyce himself, is acutely aware of the importance of dates and he reminded the invited guests of the fact that this year marked another important anniversary for the tower itself. The first chapter of James Joyce's Ulysses was first published in New York 100 years ago as part of a serialisation (which was, of course, cut short by censors before the complete work was completed). It was this first chapter (Telemachus) that was to ensure the tower's enduring renown throughout the world.
Robert guided his enthralled guests on a unique tour as he related many stories of the tower and his role in developing the fine collection of books, documents and artefacts that make up the tower's collection.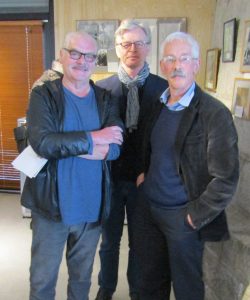 The Friends of Joyce Tower Society marked the occasion with a gift which was presented by Charles Hulgraine on behalf of the FJT.
The FJT also showed their appreciation of Robert's achievement in reaching his fortieth year at the tower in song.
Andrew Basquille gave a rendition of his wonderful ditty about the tower and its volunteers with an added verse in Robert's honour.
Congratulations Robert on this terrific milestone.