Paul O'Hanrahan delivered two fine performances of his re-enactment of the opening chapter of 'Ulysses' to mark National Heritage Week at the James Joyce Tower & Museum. His first performance was on Saturday when he entertained a hardy bunch of Joyce enthusiasts who braved all kinds of weather to see Buck, Stephen and Haines brought to life by Paul.
Wednesday was much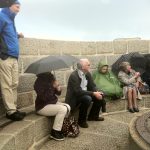 kinder to Paul and his audience with beautiful sunshine making the event even more enjoyable.
The performance began atop the tower, moved downstairs to the round room and, finally, Paul brought his audience outside and down to the Forty Foot to close his wonderful interpretation of the opening of our favourite book.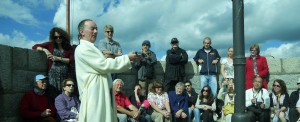 Paul, who works with the Balloonatics Theatre Company is a regular at the tower and it was great to welcome him back to perform his work in such an authentic setting.  Thanks Paul – you were terrific!